Tim Scruggs Wrapless Cue
SOLD
Cue was built in 2010.
This cue is 99.8 out of 100 in condition.
Flat Faced 3/8-10 modified joint.
Cue weighs 19.2 - 19.6 oz.
Butt weighs 15.7 oz.
Butt is 29" and all three shafts are 29" - total 58".
Cue has three shafts.
Two shafts made by Tim and they weigh 3.9 oz. each
The matching OB1 is a blank shaft I sent to Tim to match up to this cue.
OB1 shaft weighs 3.5 oz.
All three shafts are 12.5 mm.
Only the OB1 shaft has been played. Two games of straight pool then put in storage.
The two Scruggs shafts have never been played.
Cue and shafts are straight both together and apart.
The photos do not do any justice at all to this cue - it's beautiful!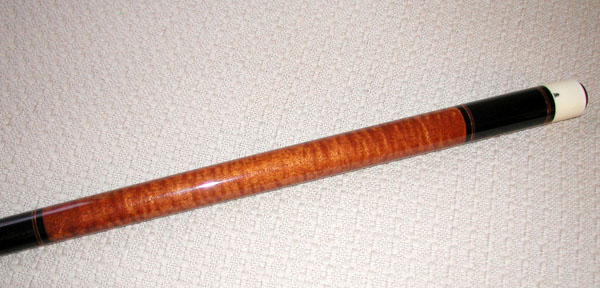 Please call or email us with any questions.
682-300-8641 randy@zencues.com


© ZenCues.com, All Rights Reserved.